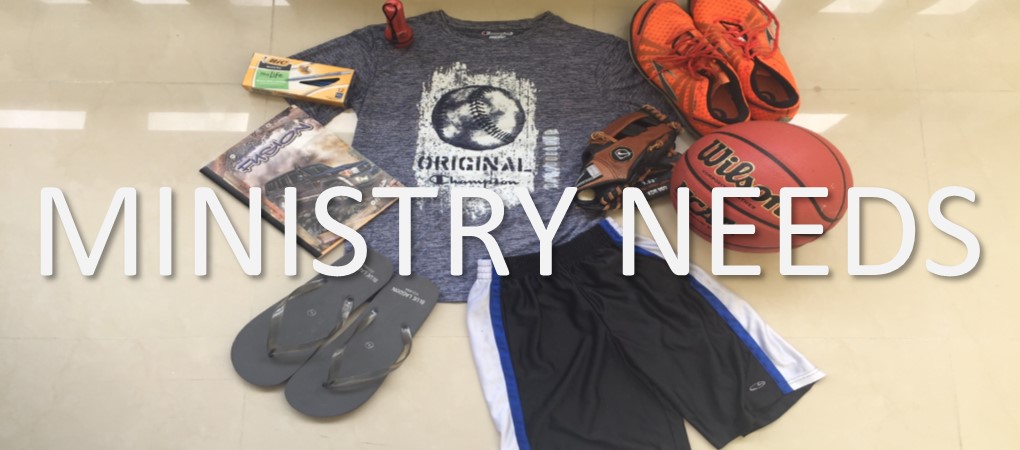 We have a "store" at Holt's House where the boys we are working with can earn points by attending school, coming to our meetings, or memorizing Bible verses to trade in for items they need or want.  Currently, the store offers them the opportunity to "purchase" clothes, shoes, toiletries, small household items such as flashlights, toys, and sports equipment. Below is a list of items we would love to have donated to help with this area of our ministry. If you have any ideas for something you'd like to donate that isn't on the list, please contact us! We're always looking for new ideas.
We are also asking for donations for the general use of the facility such as the items in the right column. Many of these items are hard to find, expensive, or lower quality when purchased in the DR.
We do not have any mail service in the Dominican Republic to have items shipped, but we have several teams coming throughout the year who can bring these items to us. Please contact us if you have any questions or would like to get in contact with a local team who can bring the items for you.
School Supplies
New or gently used backpacks appropriately sized for middle/high school boys
Composition style notebooks
Markers
Colored pencils
Scissors
Glue sticks
Pencils
Manual pencil sharpeners with a top to collect shavings
Large pink erasers
Pens
Highlighters
Index cards
Pencil cases
Basic calculators
"Store" Supplies
Gently used or new dri-fit t-shirts or athletic shorts – Boys large through adult medium only
Gently used or new athletic shoes – mens 5-10 only
New or gently used socks – boys and adult sizes
New boxers – boys medium – mens medium
Deflated new outdoor basketballs
Baseball gloves and batting gloves
Baseballs
Handheld ball pumps
Gently used or new drawstring backpacks
Inexpensive LED flashlights (with batteries if they are not included)
Toothpaste
Toothbrushes
Deodorant
Bar soap
Shoe polish (white, brown, black – wax tin)
Inexpensive twin size air mattresses with a non-electric pump
Plastic kites
Earbuds
Rubber bouncy balls
Facility Needs
Hand sanitizer
Peanut butter
Expo dry erase markers
Printer ink cartridges – HP 664 (color/black)
Clorox style wipes
Lysol spray
Bath towels
Washcloths
At this time, we do not have ministry access to or storage for items made for girls/women, children under 11,  or clothing below youth medium or above adult medium. We also currently have an excess of baseball uniforms, bats, balls, helmets, and other gear, so we are asking that those are not donated right now.